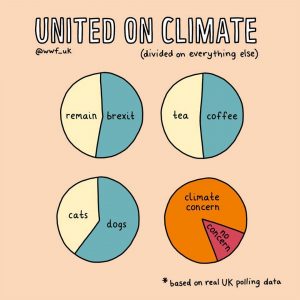 Thanks to WWF for this image
Sometimes we are privileged enough to work on a deal that can make a real difference. The sale of Predict Ability Limited is one of those, Chairman Bruce Menzies explains:
My name is Bruce Menzies. I am a civil engineer. I am Chairman, co-founder and director of Predict Ability Ltd (PAL). My fellow co-founders are Richard Clarke, a chartered chemical engineer, and Edward Coe, a financial software specialist. We founded PAL in 2015. Richard's vision for PAL was to research and develop the worldwide price for carbon that was being called for by the UN, IMF, the World Bank and the IPCC (Intergovernmental Panel on Climate Change). We did this by assessing the loss and damage of insured and uninsured extreme weather events (hurricanes, flood, landslides, drought, forest fire…) that were attributable to the burning of fossil fuels. This price was expressed as dollars per tonne CO2, not simply tonnes CO2. This was a carbon tax-in-waiting for countries and corporations. December 2018 was a watershed. The UNFCC COP24 conference in Poland could not agree on who would do what about global warming. Meanwhile, in Paris the violent gilets Jaunesprotests showed citizens would not accept a carbon tax.
Additionally, the climate emergency was becoming obvious. Accordingly, we developed financial risk metrics for the impact of climate and climate change. We argued that corporations who embrace ESG (Environmental, Social Governance) and who practice Responsible Investing (like disinvestment in fossil fuels and investing in energy renewables) are more successful than those who do not – let the markets save the planet!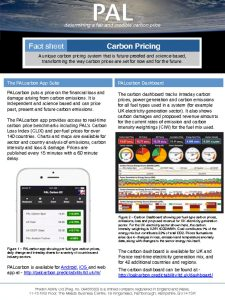 To deliver this vision required a senior partner with deep pockets. We were self-funding thus far and so owned the Intellectual Property outright. We turned to Weybrook Business Brokers Ltd to sell the business. Rupert Trevelyan immediately saw the intrinsic value in our IP. He grappled with our difficult science and came to understand it very well indeed. We started talks with a global financial services company. They are Global Corporate Financial Advisors with their HQ in the Netherlands and offices in London, Switzerland, Hong Kong and Canada. They have over 500 clients that are managing three trillion Euros. They were a natural match with PAL, having set up a Climate and ESG Solutions group that they wished to expand. On September 30th, 2019, PAL merged with the company., with the pre-merger talks overseen by Rupert. On November 1st, Richard and Edward started working for the new joint venture. – a very successful outcome for all concerned.
Dr Bruce Menzies
Chartered Engineer
Chairman, Predict Ability Ltd (PAL)
If you want Weybrook to help sell you business click on this link