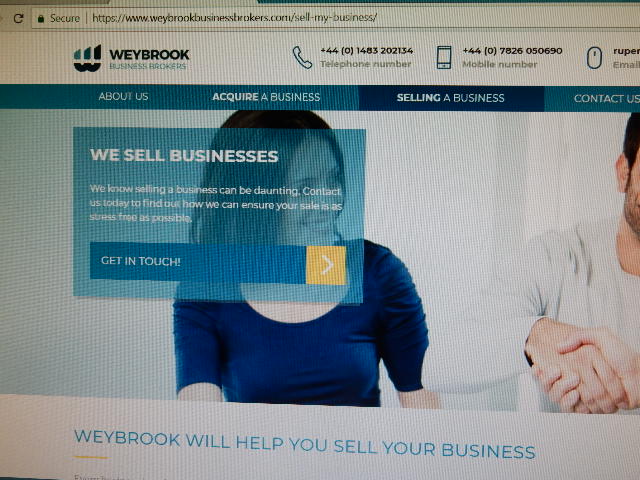 As we start to unlock from lockdown, is it time for you to start thinking about selling your business?
We have had really tough year with the Covid Pandemic, one thing it has reminded us is that life is for living and that we should savour every moment with friends and family. Entrepreneurs and business owners often are often working up to 7 days a week and they may well be considering lifestyle adjustments which could include selling their businesses. After the year we have had it may or may not be a good time to sell; at Weybrook we can work with you to put your business in the best position to sell; so why not give us a call to discuss whether now is the time to sell?

Listed below is some of the information buyers need from sellers:

Information Required When Selling Your Business
Once you have decided to sell your business you will need to put together an information bank. The more preparation you do upfront, the smoother the selling process will be and you will be less likely to face hiccups and delays during the due diligence process.

Listed below is the key information that you should put together:
Financial
• Annual accounts (At least 5 years, this is essential information to have up front)
• Up to date profit and loss account, balance sheet and cash flow forecasts
o Details of the cost base and administrative costs
• Details of any loans and outstanding debt • Forecast for next year and if available a 5-year plan
• Details of assets owned (property, vehicles, machinery, stock, fixtures and fittings)
• Stock at value•
. Details of accounting infrastructure
Sales
• Sales figures; split by: Revenue and volume o By product / service type
o Key customers
o Forecasts for the next year and the remainder of this year
o Sales
o Contract details
o Length of tenure
• Details of key products and services provided
Suppliers
• Key suppliers
o Turnover
o Contract terms
• IT and infrastructure
People
• Details of staff
o Numbers of staff including directors
o Management structure
o Job roles and descriptions
o Organisation chart
o Names of staff (brief biography and tenure details)
o Salary and benefits details
o Contracts
Legal
• Details of company legal status
• Shareholders details ( all shareholders need to be in agreement to sell)
• Details of contracts and leases
• Details of outstanding judgements or legal issues
• Details of intellectual property rights and copyright
• Registered brands and domain names
Premises
• Property details
• Owned or rented. – leases and deeds• Tenure
• Co-tenants / agreements
Sales and Marketing
• Website, social media & domain details ( webmaster, domain name, hosting details)
• Sales and Marketing plan details & costs
• Images and packaging details ( provide good images to help sell your company)
• Data – what data do you hold and what is your GDPR plan?

This list is not exhaustive, but if you can provide the majority of this information you will be very well placed to sell your company. If you don't have it up front, you will more than likely be asked for all or most of it by a prospective purchaser. Failing to provide it, could slow down, or even halt your sale!

Why not give Rupert Trevelyan a call to see if now is the right time to sell your business. Call 07826 05090 or visit https://www.weybrookbusinessbrokers.com/sell-my-business/